Crowns are dental restoration type where it caps or encircles completely the tooth or implant usually needed when a huge cavity threatens the healthiness of a tooth. Dental cement is used in bonding them and are typically made from several materials with indirect methods used for fabrication. Having this improves the appearance and strength of teeth.
This procedure is certainly beneficial to a person but the materials and procedures are expensive and normally takes a few weeks to finish. But luckily, there is a new method of creating them and have same day crowns ready within that appointment with your dentist. It would only take for them a few hours instead of the usual weeks.
These technologies are based upon computer aided manufacturing and design where the waiting time is significantly reduced. This is an advantage for those dentists who have invested in this technique and can see an increase with the number of customers. The process is not only fast for the dentist but also for their patients.
This starts a small camera that is intra oral that takes a series of images in 3D of the tooth that needs the crown. The images would then appear on the screen and have its precise measurements together with it which can be tweaked then by the dentist. They will finalize the dimensions before sending the data to their milling phase.
During this phase, the machine will then translate the data it received and start in making the crown for the patient. This is done by carving down a ceramic block which is the same quality of material used in making them traditional. Then they would ready the creation for it to bond with their tooth in just very short time usually taking only two hours.
If ever you need your tooth or teeth be crowned and like it to be done this way then look for dental clinics with this technology. They should preferably near your home or workplace so lesser time will be added to your scheduled appointment used for commuting. This enables you to have it done during office hours with less effect on your working time.
This is possible by setting an appointment during your lunch break and have your teeth measured at this time. Then you may return later when the procedure of making it is done and have it placed on the affected one. When they have finished and you are still at work and stepping out for some minutes is impossible, then you could go after work instead.
Check the reviews these clinics have received from their previous customers by visiting their website and checking the testimonials posted there. Most, if not all, of the testimonials there are positive so look for another website where they show the reviews and ratings of various clinics. Doing this might let you see any negative review they have.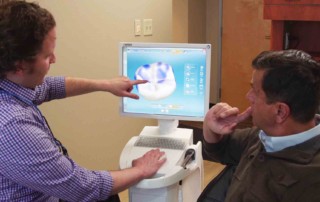 Inquire on their price so you can prepare for its payment. Ask them if any financing options are available or if the insurance covers this. The cheapest one is not always the best choice because their quality might not be good.