For every computer user, Windows activation is a necessary step. This is to ensure that you are using a copy of software that is genuine and comply with Microsoft software terms.
Usually, you need to purchase a product key in order to install and activate the Windows. The activation can be done through Internet (online) or phone (offline). For Windows 10, you can have another new method called digital entitlement activation.
This article will guide you on how you can activate Windows by phone.
When you need to Activate Windows 7?
There are several situations that you required to activate Windows (again)!
Fresh install a new Windows 7. This is definitely needs to activate Windows.
You make a major hardware change to your computer like changing the hard drive, display card, RAM, etc. Then, re-activate the Operating System (OS) is needed.
Your computer infected by viruses and hence need to reformat the hard disk. Once hard disk was formatted, everything in the hard disk is gone. Re-activation is needed.
Activate Windows 7 by Phone
Here is the step-by-step guide on activation using automated phone system:
Go to Start, in the search box: type slui.exe and press Enter.
From the Windows Activation window, click on Show me other ways to activate then choose Use the automated phone system link.
First, select your nearest location and click Next button.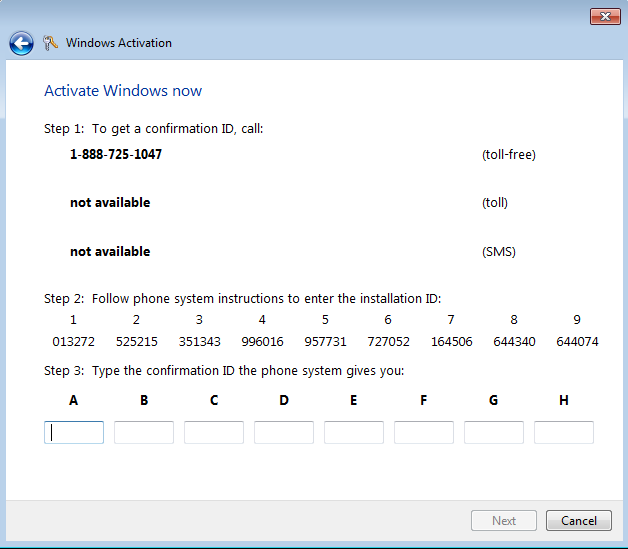 You will see a toll-free number displayed on the screen (under Step 1). A set of 9 installation ID numbers appeared in Step 2.
Call the toll free number and you require to speak/enter the installation ID numbers into the phone.
The automated service will issue you a confirmation ID number. This numbers need to be inserted into the Step 3 above and click Next button.
Note: In case the automated service failed at this stage, please STAY and HOLD the phone as it will auto transfer you to an operator to help you with the activation.
You will be shown Activation was successful screen, click Close.
In case the activation was not successful, you may need to use 3rd-party tools called Windows activators like Windows Loader, RemoveWAT to help you activate Windows 7.
So, basically the activation steps are straightforward process and if you follow this article closely, there is no reason that you cannot activate the Windows 7. All the best in your Windows activation!